New Years Day Blaze Guts Godwin Avenue Home
01/01/2014 11:47AM ● By Rebecca K. Abma
Fire on the corner of Paterson and Godwin Avenues on the morning of Jan. 1, 2014. (Photo courtesy of Denise Buchicchio)
A fire tore through a two-family home on the corner of Godwin and Paterson avenue on New Year's Day morning, sending two residents to the hospital and rendering the home uninhabitable. 
According to Midland Park Fire Chief Mark McCombs the fire at 351 Godwin Ave. started in the first floor bedroom and was reported around 10:15am.  When fire fighters arrived at the scene, flames were pouring out of the first floor windows and climbing up the side of the building.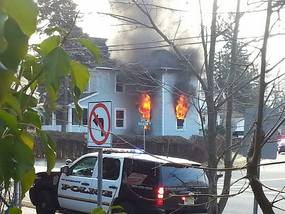 McCombs noted that the department was able to get the blaze under control rather quickly, with the fire extinguished in roughly 15 to 20 minutes. Emergency services remained on the scene past 1pm. The cause of the fire is unknown pending an investigation. 
Godwin Avenue from the light at Prospect Street to past the water company property, along with Post Avenue and Paterson Avenue from Cross Street to Godwin remained closed. 
Fire, police and ambulance from Ho-Ho-Kus, Waldwick and Wyckoff assisted with fighting the blaze, while mutual aid from Franklin Lakes, Fair Lawn and Oakland covered the Midland Park Fire Station and covered another fire alarm on Paterson Avenue. 
McCombs began his two-year term as Fire Chief at midnight, taking the helm from former Fire Chief Mark Berninger. Officials noted this was the first major fire in Midland Park in several years.
Midland Park's all volunteer fire department has approximately 45 active members.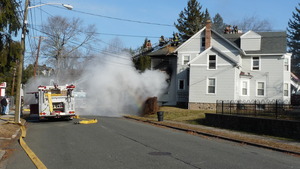 Have photos to share? Email Rebecca@mpkpress.com.



New Years Day Fire [7 Images]
Click Any Image To Expand