Advertise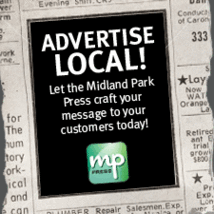 Midland Park Press is the premiere online news source for Midland Park, NJ. We cover municipal and school news as well as local businesses and community events. The site was launched in December of 2012 to provide outstanding news coverage for the residents of Midland Park.
Advertising in the Midland Park Press puts your business or organization's message before a targeted local audience. Our rapidly growing readership and fan base comprises all age demographics in the Midland Park community. Our social media presence is expanding daily.
In addition to advertising packages, the Midland Park Press also offers valuable social media tools and training for local businesses. For details, see our rate card.
The Midland Park Press donates 10% of all advertising revenues to local charities, and offers discounted advertising to non-profit organizations.